2010-11-07 Sun 14:28
Indonesia is grieving . . .
Our country, our mother earth is crying. . .
Only in a few days, Indonesia hit by many disasters. First, the tsunami in Mentawai Island, West Sumatra killed almost 500 people and hundreds more are still missing. Then the next day, October 26, one of the most active volcanoes in the world, Merapi volcano erupted. It's heat cloud which called "
Wedhus Gembel
" (english: trash sheep) of which temperature is reached 800°C killed dozens of people including Merapi volcano's gatekeeper, Mbah Maridjan.
After the first eruption, Merapi volcanic activity has not ended, but it's keep increasing day by day. Until today, its volcanic ash had reached the other provinces, including the place where I lives. This volcanic ash caused the ashed places looks like Silent Hill
I hope this disaster would end soon! Indonesia had gotten many disaster! >__<
Online media and social network also discuss this disaster, especially on Twitter, many people and world celebrities use
#PrayForIndonesia
hashtag to show their sympathy to Indonesia.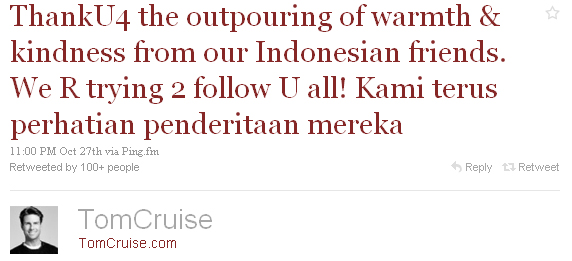 Please spread the word . . .
Thank you~
read
here
also